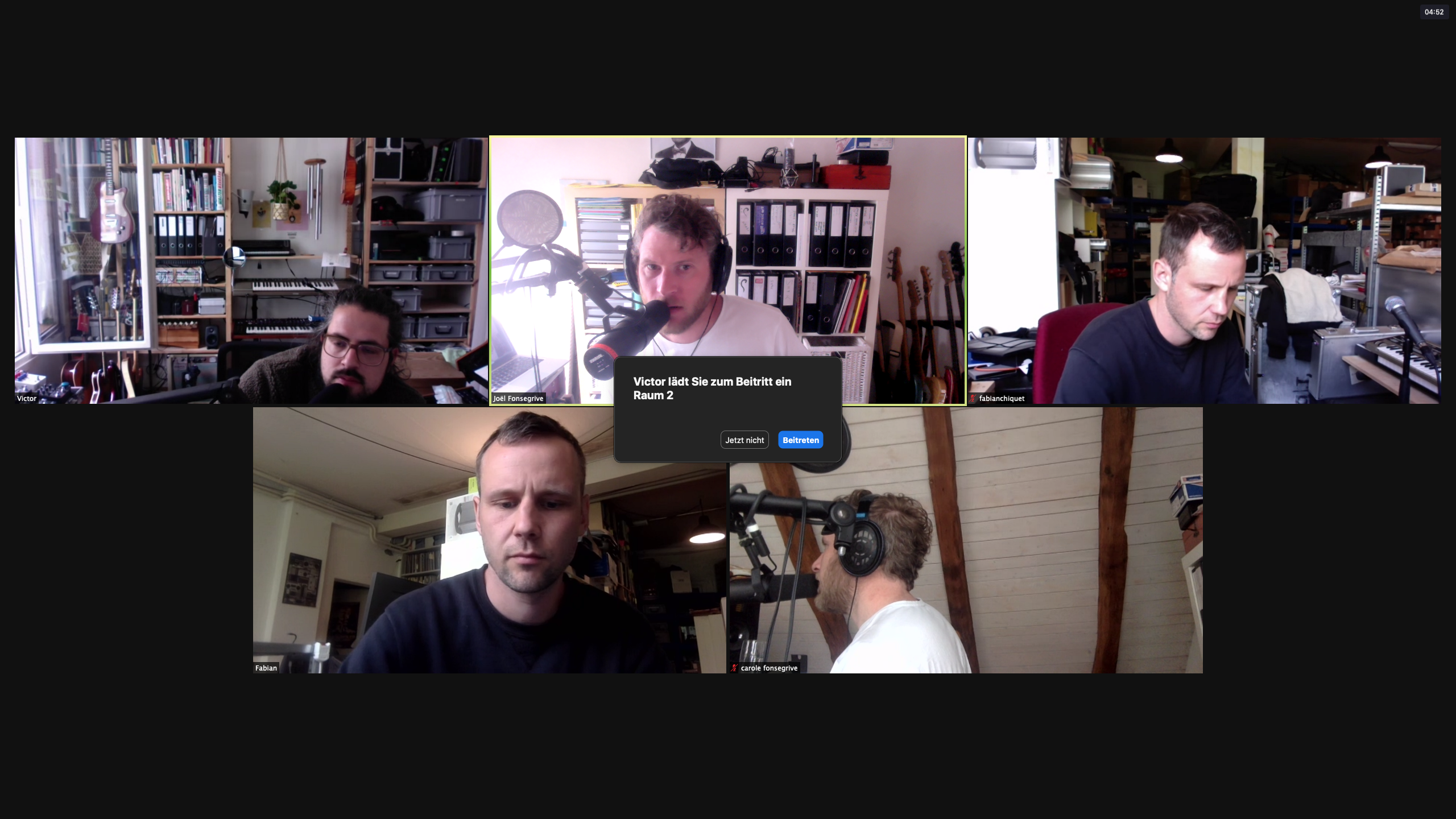 The «Katastrophen Club» is a digital clubnight on Zoom, somewhere between concert, happening & talk format. True to Boris Johnson's motto "There are no disasters, only opportunities. And, indeed, opportunities for fresh disasters.", «Club für Melodien», together with four musicians and an actor, create a musical-performative playground in which the catastrophe is the main protagonist. We cheer up and condemn the disaster. We celebrate it like "dias de los muertos" celebrate death. It's like if the catastrophe would be sitting at the table with us, having dinner.
In the virtual concert hall, death metal meets a catastrophe-relief-guide and Bulgarian choirs meet apocalyptic theories of Johannes Kepler while at the bar they philosophize about cosmic rebirth. What is happening in the toilet or in the backstage? Do you want to know it? Or even talk with us? Then come to the «Katastrophen Club» and bring your own disasters with you. Or just a memory of your last club night. You're favourite club is bankrupt? Just smile! Or as Boris Johnson said: "There is no dis ..." etc.etc.etc.etc.etc.
Sa May 1st, 2021 and Fr May 7th, 2021
Doors 8:30pm / Show: 9pm
LIVE
Zoom Link to the shows:
https://zoom.us/j/94198022747?pwd=c0tSQTd4OTR4dGtrWngrTTdKZ2NtQT09
Fabian Chiquet works as an artist, musician, theater director and filmmaker. As a video artist, he has exhibited in international museums and galleries. As a musician he co-founded the band «The bianca Story». In addition to their music albums and tours all over Europe, the band became known in the field of musical theater. Since then he has staged and composed for various theaters on his own and with his collective «Club für Melodien». This year his first documentary «The Pacifist» will be released.
Victor Moser composes and produces music for films and theater plays. Most recently for «The Pacifist» by Fabian Chiquet and Matthias Affolter. As a musician and sound designer he develops audiowalks and interactive performances in theaters, museums and public spaces with various directors. Together with the band «The bianca Story» he has written the music for numerous music theater pieces.
Joël Fonsegrive works as a freelance musician, composer, musical director and producer and toured as a live and studio bassist from Toronto to Budapest via New York, London, Paris and Berlin. He is a member of the Swiss art pop band «The bianca Story» and a member of «Club für Melodien», an artist collective that realizes music, theater and film projects, most recently for productions at Theater Basel, Deutsche Oper Berlin and Konzerttheater Bern.
Concept and Hosts
Fabian Chiquet, Joël Fonsegrive, Victor Moser
Musician
Jonas Wolf
Musician
Hannah Bissegger
Musician
Flavian Graber
Actor
Fabian Guggisberg